Who knew that the delicious sweet treat of churros could be made keto-friendly? I wouldn't believe it myself if I hadn't tried it. After years of trial and error, we have developed the perfect keto churros recipe, with the balance of sweet and crunchy, and we're sharing it with you. Read on to find our ultimate keto-friendly churros recipe to rival the authentic delicious bites you've probably tried in a Mediterranean or Mexica market.
Disclosure: Some of the links in this article may be affiliate links, meaning that we may earn a small commission if you click through using our link and make a purchase. Please be assured that this will not cost you any extra money. Also, please be assured that we either use the products we recommend personally, or have been recommended by trusted friends who currently use them.
Since starting keto, I don't crave sweet treats to the extent that I used to. But every now and again I get a craving for these sweet keto churros.
I would like to say they take me back to my childhood or going to Spanish markets on holiday with my family, however, this tradition lasted long into adulthood.
Obviously, on a keto diet, you would never be able to enjoy that lovely sweet outer, followed by the amazing crunch as you bite into your churros and stay in ketosis.
You would soon be well over your 20 grams of carbs a day with the average potion of churros containing an average of 35 grams of carbs!
Anyway, after years of trial and error with different combinations of ingredients, I was so happy when I stumbled on this one. You get the golden color on the outside, the lovely sweetness, AND the crunch when you bite into it.
One batch in the trial was that bad, they actually made me sick! 10-15 attempts later and this recipe was born.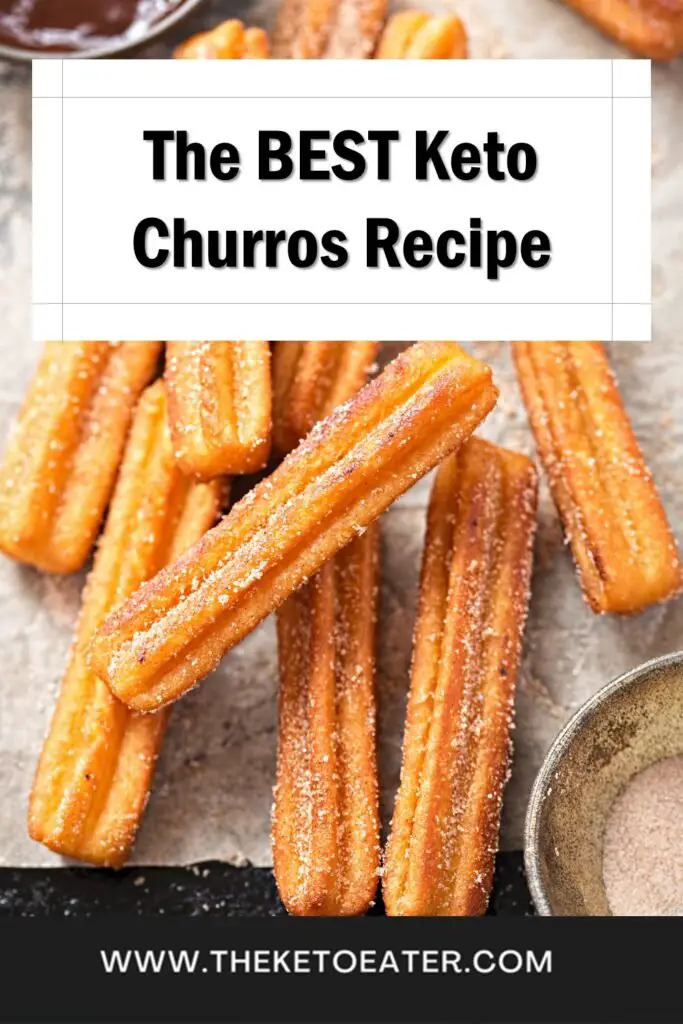 This really is the most perfect keto-friendly churros recipe.
If churros are your sort of food, you should try out our keto donut recipe also made with almond flour.
If you are new to keto, check out our keto macros guide and our keto guide for beginners to get you started. If you don't find what you are looking for in these, feel free to drop us a message and we will help you in any way we can.
What Do You Need to Make This Keto-Friendly Churros Recipe?
Coconut flour and almond flour are used in this recipe for the perfect keto churros. The coconut flour gives the churros their soft texture, whilst the almond flour help to create a crisp exterior.
These are my favorite here, but you can pick up almond four and coconut flour in most stores these days.
For the sugar, I initially wrote this using only granulated stevia. However, I had a craving for these the other day and I was out of granulated stevia and only had erythritol. I was nervous using it as I really wanted churros, and I wanted it to be as good as when I first discovered this recipe.
My dedication to sweet treats won out, and I made them using the erythritol that I had in the cupboard.
I am pleased to report that they were equally amazing, so if erythritol is all you have in your cupboards, go for it!
Xanthan gum pulls this recipe together nicely, giving the center of the churros that dough-like texture, whilst the baking powder helps the batter rise.
We try and keep our recipes simple, so they are accessible to all. If you are on a tight budget check out our guide to keto on a budget, which includes our top tips to save money, and our keto hacks article will take you through how to save time and maintain your sanity on a keto diet.
Be Careful of the Carbs [Top Tip]
Cinnamon, for a spice, is relatively high in carbs with around 6 grams of carbs per tablespoon. I love cinnamon, however, I cannot justify 6 crams of carbs on cinnamon. Instead, I will only use a teaspoon's worth and make sure that I mix it in well with my sugar before I coat the churros.
That way I get the lovely cinnamon flavor throughout, without breaking the carb bank.
This recipe is really simple, and if you are already living a keto lifestyle, they are probably ingredients that you already have in your keto cupboards.
How is Best to Cook Your Keto Churros?
Here you have several options, I have tried them all and they all work well, it will just depend on what you have access to you in your home.
You will need a piping bag or one of these cute churros makers to get the shape.
Oven Bake
Oven baking is a great option. Follow the instructions below, but once you have got your batter, you will need to put it into a charge icing bag with a large nozzle attached, like this one.
Onto a silicone baking tray pipe out 3-4inch amounts of the mixture in straight lines. Space them a couple of inches apart. Bake in the oven at 350 for 10-15 minutes, the keto churros should be beautiful and golden brown.
When they come out of the oven, brush with butter and sprinkle with your sugar and cinnamon mix.
Deep Fry
If you have a deep fryer or are confident deep frying on the stove top, this can be a great (and authentic) option for you. I personally don't use this method as I find that this wastes a lot of olive oil.
Get your oil up to a high temperature. Using your piping bag, pipe 3-4inch amounts of batter into the hot oil. When all of your batter is in the pan, you will need to turn the churros to make sure it is cooked on both sides
Air Fryer
Ok, you cannot cook these solely in the air fryer. But what I have found is that the air fryer is amazing for these keto-friendly churros in three circumstances.
If I have oven baked my churros and they are not as crispy as I want, I will let them cool and then throw them back into the airfryer will a little bit of oil and crisp them up
If I am serving this as a keto dessert for a dinner party. I don't want to be stood there faffing whilst I have guests. I will make this in advance in the oven. Store them in the fridge (once cool) and then I will pop them in the air fryer when we have finished the main course so they are wonderfully crisp to serve and lovely and warm.
If I have made too many (or a spare batch for the freezer) I will defrost them through and then pop them in the air fryer to crisp up. They are amazing.
At the moment I am obsessed with my Ninja air fryer and everything in one, I cannot recommend it enough, but any air fryer should do the job.
Churros Maker
I've left this until last, as these are an amazing option for making your keto churros, however, not everybody has one or has the space in the cupboards for one.
With this you will get perfectly shaped churros every time.
If you do, follow the instructions on your individual machine for delicious keto churros.
Keto Churros [Our ULTIMATE Keto-Friednly Churros Recipe]
Course: Guidance
Ingredients
1 cup Water

1/3 cup butter + 1/2 cup for coating later

1 1/2 tbs Granulated Stevia or Erythritol +2 tbs for sprinkling

1/2 tsp Pink Himalayan Salt

1 tsp Pure Vanilla Extract

1 tsp Baking Powder

1/2 tsp Xanthan Gum

3/4 cup Almond Flour

1/4 cup Coconut Flour

2 Eggs beaten

1 tbs Cinnamon (optional)
Directions
Preheat the oven to 350.
Place water, butter, 1 1/2 tbs of stevia, salt, and vanilla into a pot on the stove. Bring to a boil.
While waiting for the above mixture to boil, in a dry bowl, mix together both flours, xanthan gum, and baking powder.
Once the wet ingredients have been removed from the stove, pour the flour mixture into the pot and fold together with a spatular until well mixed. The dough should be almost (not completely though!) crumbly, if it is not, sprinkle in a little extra coconut flour at a time until it seems dry enough. Take off the heat
Take off the heat and leave to cool for a couple of minutes
Add the eggs and fold them in until well mixed. The dough should be very smooth.
This next step will depend on which cooking method you have chosen (see above)
While churros are baking, mix together extra stevia and cinnamon in a small bowl. Then, melt the extra butter in a separate bowl.
When done, brush churros with butter using a silicone basting brush, then take a pinch of the stevia/cinnamon mixture and sprinkle it over each one a little at a time, the butter will help the sugar and cinnamon stick.
Let them sit and dry, then you can enjoy them.
Keto Churros Frequently Asked Questions
I regularly get asked the same questions about these keto churros, so I thought I would answer them here for you now.
If you have any other questions about churros or specifically about this keto-freindly chuross recipe, please get in contact and we will see if we can help. Enjoy.