Does anybody not love pie? Even if you don't this low-carb, keto chicken pie will convert you. Sugar-free, grain-free, and nut-free. If you need a meal that you can make in advance and leave in the oven on a timer or freeze for a later date, this keto chicken pie is for you.
Disclosure: Some of the links in this article may be affiliate links, meaning that we may earn a small commission if you click through using our link and make a purchase. Please be assured that this will not cost you any extra money. Also, please be assured that we either use the products we recommend personally, or have been recommended by trusted friends who currently use them.
On a cold Winters day, what's better than pie?
Pie has always been one of my favorites.
Pre-keto it would have been my go-to on a pub menu. On a cold winter's day, what's better than going for a walk to a country pub, getting warm near an open fire, and warming your belly with pie and gravy?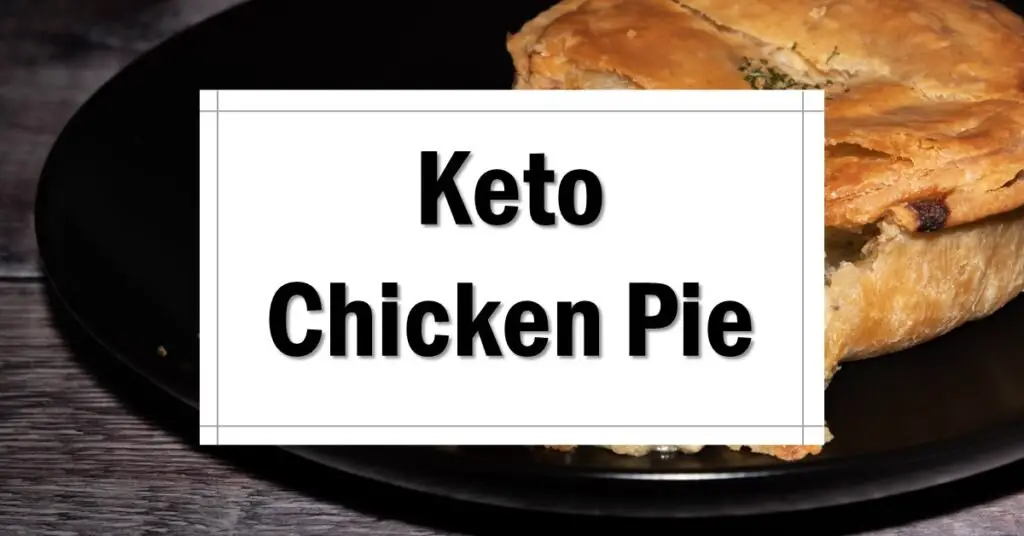 Alas, the pub pie is not something that I can have on a keto, low-carb way of living. Pub pies, unfortunately, are full of carbs, making them unsuitable for a keto, low-carb diet.
Does that mean that I cannot have pie on keto?
Hell No!!
Sorry, was that a bit strong?
If life has taught me one thing it's that you do not have to miss out on anything in life, especially when it comes to food. There is always a workaround!
I spent months searching the internet and experimenting, trying to find the perfect blend of having tasty pastry, that has the structural integrity to hold a filling too.
This is important as a lot of my initial attempts at pastry went soft and soggy with the juices from the meat when it cooked. It tasted fine – but could not be called a pie!
That was until I discovered this keto pie recipe. Read on to find out how to make it. You really can have your pie and eat it, and keep in ketosis!
Keto Chicken Pie Pastry?
Coconut flour
A lot of pie recipes will use almond flour for the crust. An alternative to almond flour on a keto lifestyle is coconut flour.
Coconut flour has a number of health benefits including aiding digestion, and heart health, and even can assist in weight loss. 
A 100g of coconut flour contains approximately 24g of carbs, which appears to be a lot higher than that of almond flour and only 10g of carbs per 100g.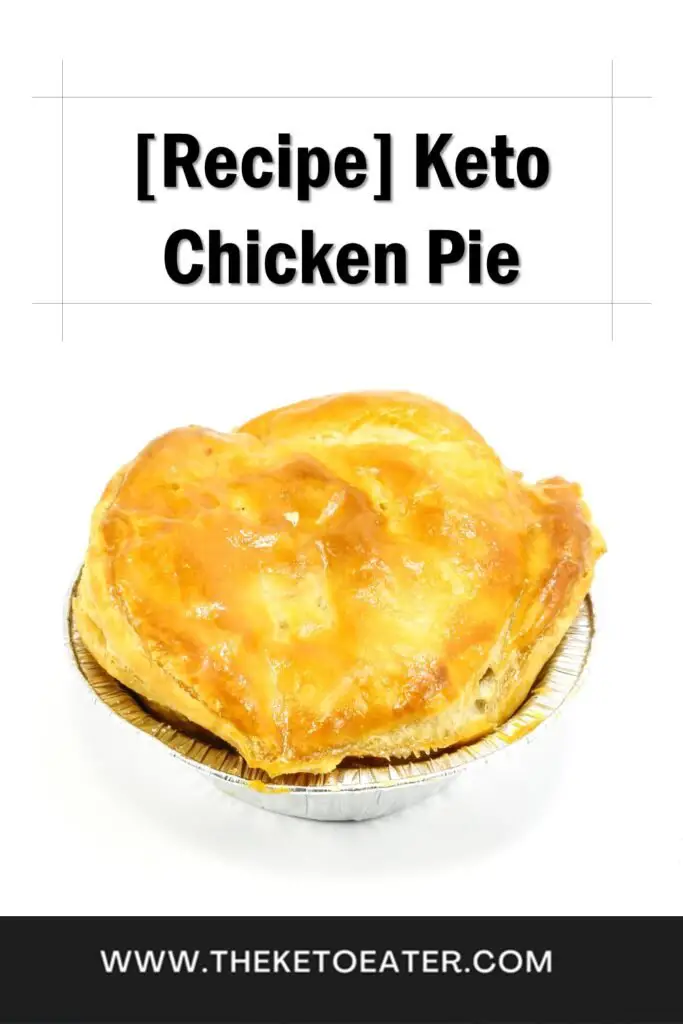 However, for every 100g of almond flour that you would use you will only need to use around ¼ (25g) of coconut flour. 
Coconut flour is quite dry and therefore absorbs moisture from other ingredients when baking. This means that your baked goods stay moist and they do not dry out and end up crumbly!
Also, coconut flour tends to be cheaper than almond flour so, so if you are doing keto on a budget substitute in almond flour for coconut flour, where suitable.
The coconut flour creates a great texture to this pastry and you cannot taste the coconut.
Making your keto chicken pie pastry
This really is a simple process – just add all of your ingredients into your food processor and blend them together.
It really is that simple!
How many Carbs in the Chicken Pie?
This keto chicken pie recipe only has 8 grams of net carbs per portion. Amazing right? Some shop-bought pies have up to 35 grams of carbs per portion. This means you can eat keto pie and stay within your macros.
One big pie or individual keto chicken pies?
This one is up to you!
If I am making this, I normally make individual pies if I am going to serve them up for friends, but equally, it can be made as one large pie as I have here.
If you are making individual keto chicken pies please think ahead about what you are going to do with them. If you are going to eat them as you cook them you need to cook them in an ovenproof dish.
However, if you're like me and always cook too much and freeze the leftovers to make your life easier when you're too busy to cook – you will need a dish that is oven and freezer safe. This was it saves transferring the pie from the oven dish to a freezer-proof one.
Can I store my Keto Chicken Pie?
When cooked this will keep in the fridge for around 4 days. Just reheat in the microwave or the oven and eat!
Can I freeze my keto Chicken Pie?
As I have discussed above, I regularly make additional of these pies and will freeze them for up to a month (they taste too good to last for longer than a month anyway!).
To make life easier, I will freeze these in the same dish that I cook them in. Then I will reheat them in the microwave if I am in a rush or in the oven.
This makes a quick and easy keto dinner that I don't have to think about!
The Tastiest Keto Chicken Pie
Course: Guidance
Ingredients
For the filling

1 tablespoon sunflower oil

150 grams (¼ cup) sliced onion

1 tablespoon ginger-garlic paste

150 grams (¼ cup) diced mixed vegetables of your choice (i.e. celery, cabbage, sweed, green beans)

150 grams (1 cup) of chicken (breast, thigh or a mix) cubed

½ teaspoon pink Himalayan Salt

1 teaspoon finely ground black pepper

80 ml (1/3 cup) heavy (double) cream

230 ml (1 cup) chicken broth

¼ teaspoon rosemary

¼ teaspoon thyme

For the crust

60 grams melted butter

55 grams (½ cup) coconut flour

2 tablespoons heavy (double) cream

4 eggs

½ teaspoon pink Himalayan Salt

¼ teaspoon baking powder

110 grams (½ cup) grated mozzarella cheese
Directions
Heat the sunflower oil in the pan. Add sliced onion. Fry for 2 to 3 minutes.
Add ginger-garlic paste, diced vegetables, pink Himalayan Salt, and finely ground black pepper. Fry for 4 to 5 minutes.
Add the chicken. Cook for 5 minutes on medium heat.
Add chicken broth and heavy (double) cream. Cook for another 10 minutes on low heat. Add rosemary and thyme. Turn off the heat when most of the liquid evaporates. Transfer the filling into the baking dish and spread evenly. Leave to cool slightly.
In the meantime prepare the pie crust. Add all of the ingredients into the food processor and blend together.
Now evenly spread the crust mix on the filling of the pot pie. Bake in the oven at 180 C for 25 – 30 minutes. Ensuring that the crust has turned a nice golden color.
Keto chicken pot pie is ready to serve. Enjoy.
Have you tried this Keto Chicken Pie recipe, or do you have another favorite Keto Pie recipe, let us know in the comments below so the whole community can benefit.