An easy, full-flavored Butter Chicken recipe that allows you to stay on your keto journey whilst enjoying restaurant quality food! Try this mouth-watering keto friendly butter chicken today.
Disclosure: Some of the links in this article may be affiliate links, meaning that we may earn a small commission if you click through using our link and make a purchase. Please be assured that this will not cost you any extra money. Also, please be assured that we either use the products we recommend personally, or have been recommended by trusted friends who currently use them.
When I first started keto, as with many people, I ended up eating the same meals over and over again.
There were a few dishes that I was confident were low in carbs and keto-friendly.
Indian food was not something that I had considered would be keto, then I found this amazing keto-friendly butter chicken.
Keto Friendly Butter Chicken [Winner!]
The first meal I ate out after going keto was at the local Indian with the girls. Determined to stay on track I did a lot of research into keto Indian meals and ingredients.
Butter chicken was a winner in my research with chicken tikka coming a close second. ?
This is the perfect keto dish as it is naturally high in fatty ingredients and it is traditionally cooked in ghee with cream being the thickening agent it does not use any flower so the carbs are already at a minimum.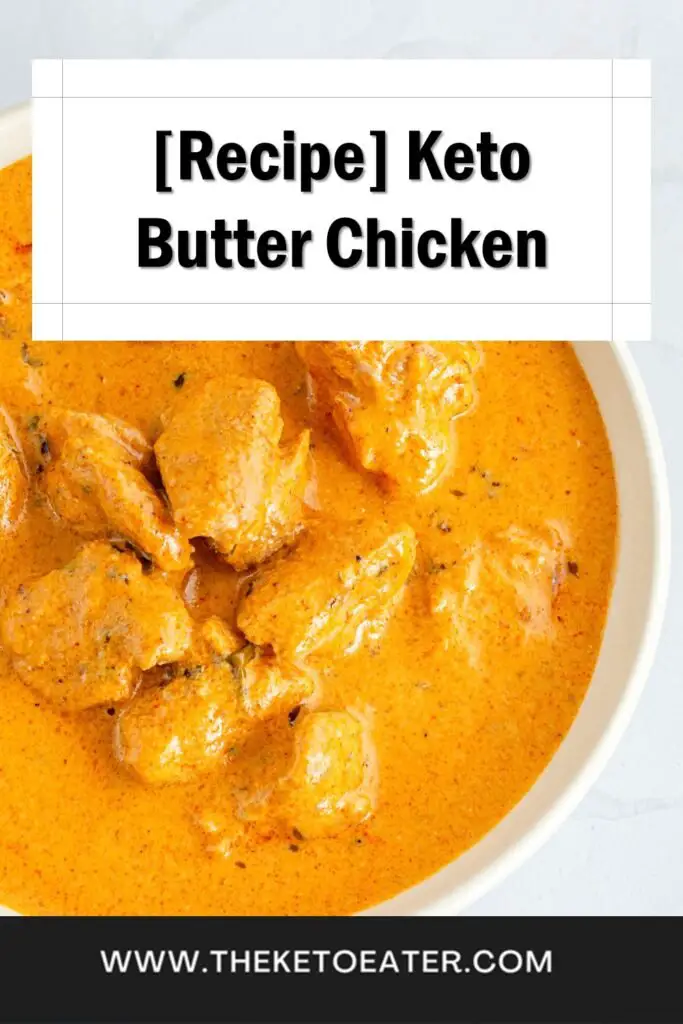 At this point none of my friends knew I was on keto – I was not ready for the criticism and health warnings that I thought I would get from them.
Although I was already seeing amazing results only a couple of weeks into keto, I did not have the conviction to hold an argument with my friends over this.
Now I would happily defend my position on keto– I'm convinced that I would win every time, and if I didn't, I'm happy so who cares!
Keto Indian Side Dishes
In order to try and ditch the carbs, I didn't order a side of rice but instead a side of saag aloo…cunningly I only ate the spinach and avoided the potato… the best bit? – I got away with it!
Nobody noticed that I'd avoided actively eating carbs on my meal.
Instead of the usual beer that I would have had with the Indian, I swapped that out for gin.
Check out this article for more on drinking alcohol on keto.
The night was a massive success, we had an amazing night with lots of laughs and even better we ended up dancing the night away to a local band.
This night was a real deal changer for me – this night out proved to me that that keto could become a way of life for me, and as any of you that follow me know, I haven't looked back since.
Indian Food You Can Eat On Keto
I've always tried to cook Indian meals at home, however, prior to this, they had always been from the point of view of trying to minimize calories.
I would use low-fat yogurt and cooking spray as opposed to oil, etc.
Having discovered keto, a whole new world was opened up to me.
I started researching recipes and worked out how they could be made keto-friendly by substituting a minimum number of ingredients in order to keep their authentic taste.
Tikka masalas and tandoori dishes are always a go too for me. Indian is one of the easiest takeaway/ restaurant eating on keto.
Keto friendly Indian food is a reality.
You don't just have to be eating out. Indian can be really easy to cook at home, it can be prepared in advance and often left in the slow cooker, meaning it can be ready for you as you get home.
Ghee On Keto
A lot of Indian cooking uses ghee (a form of butter) as the base of most Indian recipes. Ghee is high in fat, low in carbs and therefore is keto-friendly.
Ghee is basically highly condensed butter, therefore, is amazing in a keto way of eating.
Ghee has a number of health benefits including; boosting energy, reduces inflammation, high in antioxidants, boosting the immune system amongst other things.
Himalayan Butter Chicken [Authentic Taste]
Fresh ingredients do provide a more authentic taste, but let's be realistic, we don't always have the time to do that.
Sometimes food needs to be thrown together quickly with minimum effort of grating, shredding, and mincing.
However, if you do have the time, I would suggest trying this sometime with all the fresh ingredients, but who am I kidding, this keto butter chicken it's gorgeously made anyway.
What I love about this dish is its versatility – you can make it in advance if you want.
Ideally, the marinade can be made the night before and left in the fridge in order for the flavors to develop.
Also, this keto butter chicken freezes really well providing you with a yummy dinner in no time at all if you're in a rush – or perfect to pack up for a lunch at work.
Chicken Thighs Or Breast?
Personally, I like this dish with chicken thighs as they just add that extra meaty and juicy flavor.
What I also love is that if I'm trying to have a meat-free week the sauce works amazingly over cauliflower or any other low carb vegetables of choice.
Speaking of the sauce – this can also be made in advance.
If I know I'm going to be late home the next day I will leave the chicken in the fridge marinating overnight and I will throw all of the sauce ingredients (minus the cream and the onion) and blitz all of the ingredients up in the NutriBullet – I will leave this in the fridge.
When I get in all I have to do is cook the chicken, fry off the onions and add the sauce – simple!
Mouthwatering Keto-Friendly Butter Chicken (Murgh Makhani)
Course: Guidance
Ingredients
For the Marinade
800g boneless chicken thighs (aprox 8 thighs) or breasts (4 large) cut into inch-sized pieces
60g full fat Greek yogurt
1 1/2 tablespoons minced garlic OR 1 teaspoon of garlic powder
1 tablespoon minced ginger OR 1 teaspoon of ground ginger
2 teaspoons garam masala
1 teaspoon turmeric
1 teaspoon ground cumin
1 teaspoon red chili powder
1 teaspoon of salt

For the Sauce

1 small onion, sliced or chopped
2 tablespoons olive oil
2 tablespoons ghee (or 1 tbs butter + 1 tbs oil)
1 tablespoons garlic powder
1 tablespoon ginger, minced or finely grated OR ¼ tablespoon of ground ginger
1 1/2 teaspoons ground cumin
1 1/2 teaspoons garam masala
1 1/4 teaspoons salt (i like Himalayan)
1 teaspoon ground coriander
1 teaspoon red chili powder (adjust to your taste preference)
1 tablespoon erythritol
1 tin chopped tomatoes (check the back of these to ensure that they are not full of sugar and high in carbs!)
1/2 teaspoon kasoori methi OR ground fenugreek
1 cup of double cream
Fresh coriander – for garnish
Directions
For the Marinade
Make the marinade by combining the yogurt with all the dry ingredients in a large bowl.
Dice the chicken into 1-inch (fork size) chunks
Add chicken to the marinade – cover and leave in the fridge to marinate for at least 30 mins – ideally leave in the fridge overnight for a deep, rich flavor
Add chicken to the marinade – cover and leave in the fridge to marinate for at least 30 mins – ideally leave in the fridge overnight for a deep, rich flavor
When the pan is hot and the oil is sizzling remove chicken prices from the yogurt with tongs and place them in the pan. Space them out nicely so they can cook evenly and do not sweat as they are too close together. These can be cooked in batches
When brown on every side and cooked through, remove and place on a plate to one side.
For the Sauce
..the Quick Method….
Blitz all of the sauce ingredients except for the onion and cream in the NutriBullet. This can be left in the fridge overnight too so it is ready for you.
…the more authentic method
Add more oil to the same pan (do not clean the pan in between as this will all add to the flavor!) then add the sliced onion to the pan. Fry the onions off until they start to brown (5-6 minutes)
Add the garlic & ginger to the pan and fry off for a minute, if you're using fresh ingredients your kitchen will smell amazing at this point!
Add the ground coriander, cumin, garam masala, chili powder, and salt to the pan, keep moving the spices so they do not burn to the bottom of the pan
Add the chopped tomatoes to the pan, if you have a lid for the pan turn the heat down and let it simmer for 15 – 20 mins. You'll see that the sauce will start to thicken.
Pour contents of the pan into Nutriblender and blitz until the onion chunks have disappeared. TIP: Your sauce may be thick depending on the tomatoes you've used – you may want to add some water to make the sauce a bit thinner.
Pour the sauce back into the pan on a low heat. Stir the cream, sugar, and crushed kasoori methi (or fenugreek) through the sauce. Stir for 1 minute
Add the chicken with any juices that have leaked out back into the pan and cook for an additional 8-10 minutes until chicken is cooked through and the sauce is thick and bubbling.
Garnish with fresh coriander for that chef-ie look!
Have you tried this Keto-Friendly Butter Chicken, or have another recipe you would like to see or share? Let us know in the comments below so we can all enjoy it!