Tapatio Hot Sauce is one of the most popular hot sauce varieties in use today, but is Tapatio keto friendly? For all you spice lovers out there, we've got good news – Tapatio sauce is VERY keto-friendly. Unlike many other sauces, you can use Tapatio while adhering to a keto diet without paying much attention to the serving amounts. Here's why.
Disclosure: Some of the links in this article may be affiliate links, meaning that we may earn a small commission if you click through using our link and make a purchase. Please be assured that this will not cost you any extra money. Also, please be assured that we either use the products we recommend personally, or have been recommended by trusted friends who currently use them.
What Is Tapatio?
Tapatio, while often associated with Mexican food due to its name, is a type of American hot sauce (it was conceived and is produced in California).
The founders, however, originally hail from Guadalajara, so if you wish to preserve authentic Mexican flavors in the food you're cooking – Tapatio is still a solid choice.
The big distinct characteristic of Tapatio sauce is its bold peppery taste. The recipe doesn't contain any vinegar, unlike many other hot sauces, which makes the red pepper taste more distinct.
Aside from red peppers, the sauce contains garlic, salt, and a variety of spices to highlight the taste, along with acetic acid, xanthan gum, and sodium benzoate for preservative purposes. 

Nutritional Value Of Tapatio Sauce
Here's the nutritional value of Tapatio sauce per serving, which is defined by the producing company to be 1 tsp (5g):
Carbs: 0 grams
Protein: 0 grams
Fat: 0 grams
Fiber: 0 grams
Sugar: 0 grams
Calories: 0
*What's frustrating about these macros is that 0 value makes it impossible to calculate how the macros increase if we increase the serving size.
We do know that red hot peppers themselves contain around 3g of net carbs per 100g, so we can assume the macros wouldn't be exactly 0. However, changes being substantial are highly unlikely.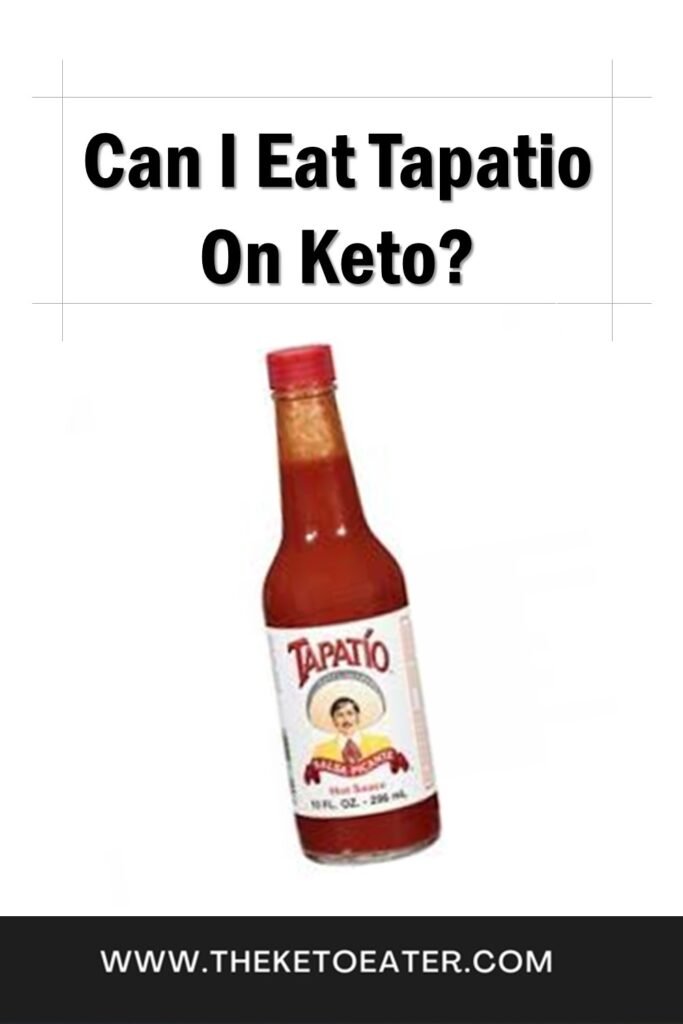 Net Carbs In Tapatio Sauce
Luckily, Tapatio sauce is one of those products that don't require you to do any math before including it into your daily macros calculation.
Tapatio sauce – per a couple of servings at least – doesn't contain any carbs, fiber, or sugar. So no need to calculate net carbs either. There are none.
Is Tapatio Keto Friendly?
All of the above mentioned makes Tapatio sauce one of the most keto-friendly mass-produced sauces out there.
Not only does it have zero net carbs, but all of the ingredients are also keto friendly.
You can include it in your diet to your heart's desire.
Are There Any Tapatio Sauce Varieties That Aren't Keto?
Nope. Mainly due to the fact that there are no varieties of Tapatio sauce.
While you may encounter different packaging for Tapatio sauce – like the 50th-anniversary black label and Dia de Los Muertos purple label – it's still all the same sauce, with the recipe staying unchanged.

As with any other mass-produced product you should always veer on the safe side and check the label of the product you're purchasing. But Tapatio becoming an unsafe option on keto isn't a very likely scenario in the near future.
Summary: Is Tapatio Keto Friendly?
So, in summary, is Tapatio keto? Yes, it is! Not only does it contain no net carbs per serving, but it is also full of keto friendly ingredients, meaning that you can enjoy this hot sauce on the keto diet.