Pharmalite XS Keto has had a lot of media attention over the last couple of years, it claims to be a miracle weight loss pill. As we all know, if anything seems to be too good to be true, it probably is, and Pharmalite XS Keto is no exception to this. Although Pharmalite XS Keto is keto-friendly, it is not something that we would recommend anybody using. Read on to find out why, and find out what you can do in order to get fast and lasting results on the keto diet.
Disclosure: Some of the links in this article may be affiliate links, meaning that we may earn a small commission if you click through using our link and make a purchase. Please be assured that this will not cost you any extra money. Also, please be assured that we either use the products we recommend personally, or have been recommended by trusted friends who currently use them.
Pharmalite XS Keto pills are designed to be used by people who are undertaking the ketogenic diet (keto diet).
The USA-based company, Ardent-Keto, claims their keto supplement can improve weight loss by getting your body into the metabolic state of ketosis (fat-burning mode) faster than you would be able to with reducing your carbohydrate intake alone.
In short, it is promoted as a weight loss product, targeting keto dieters.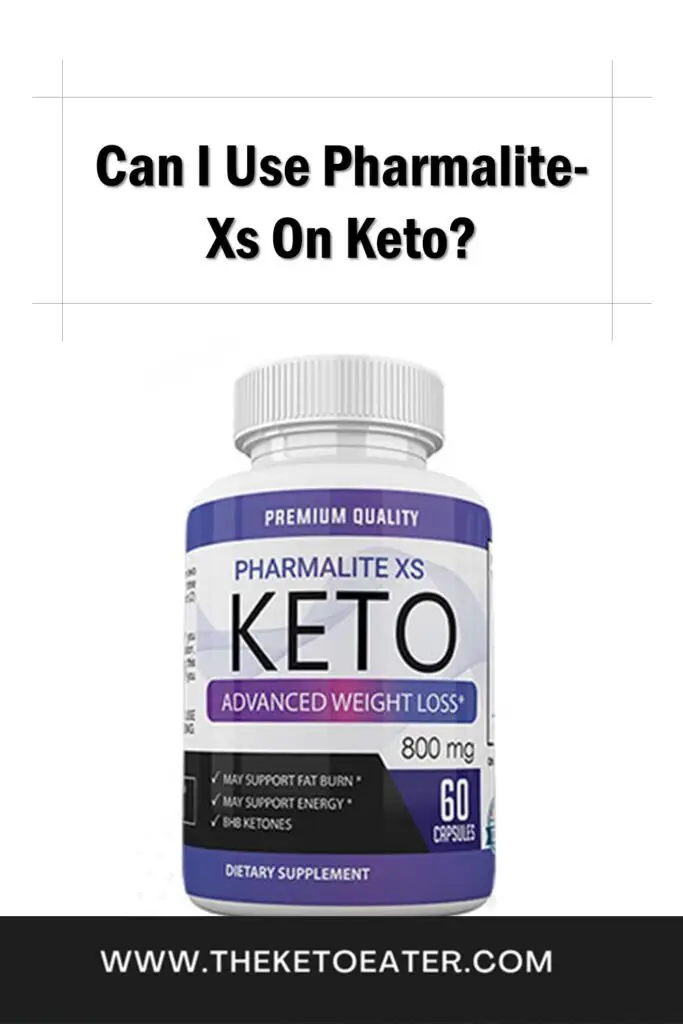 What Claims Does Pharmalite XS Keto Make?
Pharmalite XS Keto diet pills contain the following ingredient;
Calcium (Beta Hydroxybutyrate, bhb)
Magnesium (Beta Hydroxybutyrate, bhb)
Sodium (Beta Hydroxybutyrate, bhb)
Magnesium Stearate
Green Tea Extract
Furthermore, the packaging states that it may contain,
Gelatin
Rice Flour
Magnesium Stearate
Silicon Dioxide
At first glance, none of the main ingredients appear to have any conflict with the keto diet.
Looking at the product page, it makes the following claims.
Induce Ketosis Quickly
Pharmalite XS Keto diet pills claim to get your body into ketosis (burning fat instead of glucose) quickly via beta-hydroxybutyrate (BHB).
The sales page repeats this several times using different terminology. For those not educated about keto, it may sound appealing.
However, to us, the fact that they have listed the same benefit three times, suggests that it does not have a lot going for it.
Helps Burn Fat
Yes, this is another way of saying that it will help your body get into ketosis, but we found it amusing that it needed to state this too.
The advert states;
"Pharmalite XS Keto pills BURNS FAT by forcing fatty deposits to be burned up for energy instead of allowing them to accumulate around your hips and thighs".
Improve Energy Levels
The Pharmalite XS Keto Reviews claim that this diet supplement improves energy levels through the BHB ketones.
Improved energy levels are a benefit of the keto diet, this is not something that is unique to this diet pill.
There have been no studies conducted to indicate that taking this pill in conjunction with the keto diet will offer additional energy levels.
Improve Focus
Again, as with improved energy, the improved focus is another side effect of the keto diet. There is no clinical trials to indicate that focus levels are enhanced in any way with these pills.
All Natural Ingredients
It claims to contain only organic ingredients. Which, looking at the ingredients list, this appears to be correct. Due to this reason, there should be no real side effects from taking this pill.
100% Money-Back Guarantee
Pharmalite XS Keto is so convinced that it will make you lose weight that it offers a 100% money-back guarantee, allegedly, no questions asked.
Check out this article for more on Keto Terms and this one for Keto Abbreviations.
Pharmalite XS Keto: The Reality
As with most 'miracle cures' Pharmalite, XS Keto makes a lot of promises.

However,  you only need to read the customer reviews to know that it does not work.
If you are not a ketoer anyway, yes, you may see some improvement in energy levels as a focus. In my opinion, this company is trying to capitalize on ketoers.
As the product is targeted at people already undertaking the keto diet, they are going to be seeing results anyway.
If people are taking this pill, they may attribute their success to the pills and not the way of eating.
People will then become 'addicted' to them as they will think that their keto progress relies on them.
It is the perfect marketing strategy when you think about it.
Check out our guide to supplements on keto, for guidance on when you should, and should not take supplements on keto.
So, Is Pharmalite XS Keto?
Ironically, in short, having looked at all of the main ingredients, Pharmalite XS Keto, is keto-friendly. It contains no carbs or sugars that are likely to spike your blood glucose levels. In short, it will not knock you out of ketosis and stop you from burning fats for energy.
When you look at the 'may contain traces of', rice flour is included on that list. Rice flour is high in carbs and most certainly is not keto-friendly.
However, it is not known whether this is listed as it is included in trace amounts, or whether the product is produced in a factory that also produces rice flour and that is why it has been included.
Pharmalite XS Keto Alternatives
If you want our honest opinion on the best Pharmalite XS Keto alternative, it's keto. Yep, that's right, the keto diet is the best alternative to these miracle pills.
The whole ethos of the pills is to be used in conjunction with the keto diet anyway.
This means that the pills will not work if you are still eating carbs. Follow our keto for beginners guide for our top tips for getting started on keto, and our guide to ketosis.
Then you will be ready to work out your daily macro allowance. If you follow this guide and stick to your macros, you will be in ketosis in no time.
As soon as you are burning fat for energy you will experience all of the health benefits of keto.
Final Thoughts: Is Pharmalite XS Keto?
Although the ingredients in Pharmalite XS Keto mean it is perfectly fine for a keto diet, we do not recommend it. There is no evidence to support that it 'boosts' anything over and above what being in ketosis would do anyway to your body. Also, there are no studies proving that it gets you into ketosis any quicker than eating a macro-appropriate keto diet would. Unfortunately, this is not the miracle dietary supplement that we would all like it to be, your best bet is still eating fat, reducing carbs, and enjoying life!