Is Chickpea Flour Keto Friendly? No, chickpea flour is not keto friendly. Unfortunately, despite all of its wonderful health benefits, it is high in carbs and therefore, is not suitable for a keto diet. Instead of chickpea flour, we have lined up some of our favorite low carb keto flour alternatives for you to enjoy.
Disclosure: Some of the links in this article may be affiliate links, meaning that we may earn a small commission if you click through using our link and make a purchase. Please be assured that this will not cost you any extra money. Also, please be assured that we either use the products we recommend personally, or have been recommended by trusted friends who currently use them.
What Is Chickpea Flour?
Chickpea flour is an alternative flour that is made by grinding up chickpeas that are in their dry form. You might also hear chickpea flour referred to as garbanzo bean flour or besan.
Chickpeas are a versatile and delicious legume that is most famously used as the main component of hummus.
They have become a popular source of essential vitamins and minerals for many diets, considering they are super healthy, allergy-friendly, and are supremely versatile.
Chickpea flour might be hard to find in shops, but if you do see it, it is very affordable. It is also very easy to make at home, as dried chickpeas are easy to source and are inexpensive.
So let's find out, is chickpea flour keto friendly?
What Is The Nutritional Value Of Chickpea Flour?
Chickpea flour is quite a healthy ingredient, as it is suitable for many people with dietary restrictions.
For a serving of 0.25 cups of chickpea flour, the approximate nutritional value will be as follows:
Carbs: 13.3 grams
Protein: 5.2 grams
Fat: 1.5 grams
Fiber: 2.5 grams
Sugar: 2.5 grams
Calories:89 calories
How Many Net Carbs Are There In Chickpea Flour?
In a 1/4 cup serving of traditional chickpea flour, you will find approximately 10 to 11 net carbs. This is fairly high for alternative flour.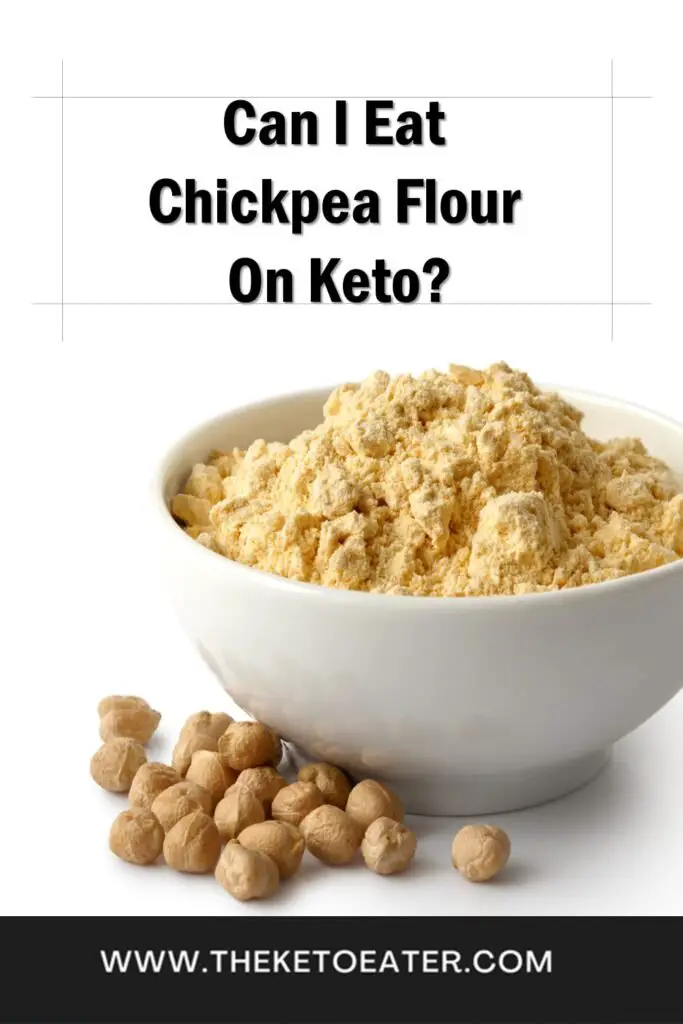 Is Chickpea Flour Keto Friendly?
Chickpea flour has fewer carbs than more traditional forms of flour, including wheat flour, cornflour, and other flours made from grains.
However, the carb content is still quite high compared to other alternative flours.
Therefore, it would not be considered a keto friendly flour alternative.
There are many other options you can use to replace regular flour that will not have you sacrificing your daily net carb limits.
What Are The Best Keto Alternatives To Chickpea Flour?
Being able to enjoy bread, baked goods, and snacks like crackers or pitas can be difficult on a keto diet, so often, it is useful to find recipes to make your own keto friendly alternatives. Thankfully, there are many keto friendly flours you can make or purchase in lieu of chickpea flour.
Check out our ultimate guide to keto flours for more info.
Almond and coconut flour are two accessible flours that are often used to create many types of keto friendly food options.
You can also try using chia or flaxseed as a replacement for flour which will also give a nutritional boost to your keto alternatives. 
Summary: Is Chickpea Flour Keto Friendly?
Sorry, no, despite chickpea flour being really healthy, it is not keto friendly. Chickpea flour is relatively high in carbs and therefore is no good for a keto diet. You are better off sticking to coconut and almond flours as well as selected seed flours that are lower in carbs.