Ever wonder what to have on a cold winters day? Of how to use the leftover broccoli from your Sunday dinner? This Keto Cheese & Broccoli Soup has you covered. Warming and delicious, you can't go wrong!
Disclosure: Some of the links in this article may be affiliate links, meaning that we may earn a small commission if you click through using our link and make a purchase. Please be assured that this will not cost you any extra money. Also, please be assured that we either use the products we recommend personally, or have been recommended by trusted friends who currently use them.
Who knew that broccoli could taste so good?  Cheese, is good. Broccoli, ok. Cheese & Broccoli soup, amazing!
This is the ultimate keto-friendly broccoli and cheese soup.
Its richness is on another level and it's a great way to keep children on a keto way of eating without them noticing that you're feeding them veg!
Is Soup Good on a Keto Diet?
Unfortunately, most shop-bought soups are high in sugar.
This is due to them needing to be preserved on the shelves in order to give them a flavor that can be stored.
Your best option is to create your own simple masterpieces and freeze them so you have a lovely home-cooked, keto-friendly soup, whenever you want it!
What kind of Soup can I eat on Keto?
All kinds!
Most soups that you have eaten on a non-keto diet can be adapted to be enjoyed on a keto way of eating.
You may have to reduce the number of onions that are used as the base of most soups and replace high carb vegetables with low carb vegetables.
For example, a potato-based soup can soon be adapted to be made with celeriac and double cream. The carbs in onions can be reduced by using leaks and so on.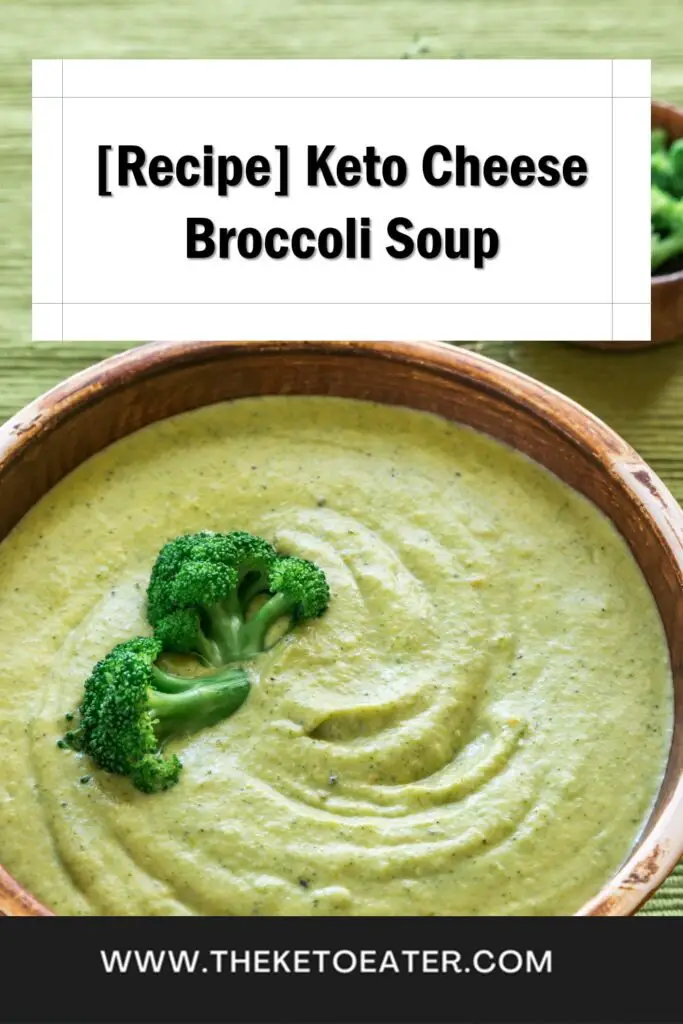 A lot of Mediterranean soups will focus more on aubergine and courgettes as their base which can also be a perfect option for keto.
Check out our tomato soup, mushroom soup, or even tom kha soup.
Is Cheese & Broccoli soup good for you?
Like I said above, broccoli, ok. Cheese, is good. Broccoli & cheese soup, is amazing!
I like broccoli, even as a child I ate it with no problem. As an adult, I eat it without complaint. It's not the most flavorsome veg, but I don't find it offensive either.
However, combine broccoli and cheese and you have a Broadway success. Wicked, eat your heart out!
This soup is low in carbs and high in fat. As with all food like this, it is filling and satisfying, meaning that you won't be snacking after eating!
On keto, I use a lot of grated cheese in recipes, although grating cheese is my most loathed kitchen task.
You have to be careful using shop-bought grated cheese as often ingredients are added in order to keep the grated cheese from clumping.
These ingredients are not often keto-friendly and will add to your carb count. Where you can, try and avoid them, or at least check the carb count first.
How many carbs are in Cheese & Broccoli Soup?
This particular keto version has 5 grams of carbs, if you're particularly hungry you can always up your cheese portion.
Or, if you're wanting soup as a starter you can reduce your portion so as to not go over your carb allowance. I have tried this with leftover shredded chicken from a Sunday roast – it's perfect to use up the leftover broccoli too!
How do you make Cheese & Broccoli Soup from scratch?
It really is simple! I sauté all of my ingredients in a heavy-based pan and then I blend all of the ingredients in a NutriBullet to ensure that it is smooth.
All of the ingredients are placed back into the pan and then heated through with the cream. It's the cream that makes that brings this whole recipe together.
Adding the xanthan gum will thicken the soup, don't be tempted to add any more than is in the recipe or it will become too thick.
The xanthan gum is a keto eaters' best friend. Where potato or other starchy options would be used to thicken a sauce or soup xanthan gum can be used in its place.
As for the seasoning, I like this quite peppery so add a good amount at the end, but the seasoning is up to you!

What goes well with this yummy Cheese & Broccoli Soup?
All of the options that you would have eaten with soup on a non-keto diet you can eat with this. For example;
Keto Bread

Pork Scratchings (personally I prefer salt or salt and pepper seasoned)
Check out more keto soups here. Don't see anything you like?
Challenge me. Let me know what your favorite soup is and I will see if I can make a comparable keto version, especially for you!
Cheese & Broccoli Soup
Course: Lunch u0026amp; Dinner, Starters u0026amp; Sides
Ingredients
30g Butter

70g Onion

140g Double Cream

70g Celery chopped

1 tsp (0.8g) Xanthan Gum

200g Broccoli


420ml Beef Broth

400g Cheddar cheese

Himalayan Salt and pepper, to taste
Directions
chop the broccoli into small pieces (1 inch) and set them aside.
Add butter into a heavy based pan along with onion, pepper, celery and salt. Allow the ingredients to cook on medium heat until onions have become translucent, and then add broccoli and cook for additional 3-4 minutes, until the broccoli has softened and turned bright green in colour
Pour the chicken broth into the pot
Decant into your Nutribullet or processor and blitz until smooth – I don't like chunks in this soup!
Pour back into the pan over a medium heat and add the xanthan gum and double cream and stir continuously until heated through.
When the soup is simmering, add the grated cheddar cheese slowly while stirring well to mix.
Stir the soup until thick and then serve warm. Enjoy!
If you have tried this recipe or would like to see a particular recipe on this site, let us know in the comments below, and we will see what we can do for you!